Plym offers unique interior design and concept development for aspiring companies.
Project map
China
IKEA Purchase & Logistics Office, Shenzhen
IKEA Purchase & Logistics Office, Qingdao
Sweden
Spotify Gaming & Activity areas, Stockholm
Smarteyes Fridhemsplan, Stockholm
Smarteyes Concept Store, Stockholm
Smarteyes Kungsmässan, Göteborg
Smarteyes Väla, Helsinborg
Smarteyes Concept Store, Lund
Smarteyes Triangeln, Malmö
Smarteyes Concept Store, Varberg
Svenssons i Lammhult concept store, Sickla Stockhlm
Svenssons i Lammhult concept store, MOOD Stockholm
Yves Rocher store, Täby Centrum
IKEA Purchase & Logistics Office, Älmhult
IKEA Customer Support Center, Älmhult
IKEA DS North Europe, logistic center head office Europe, Älmhult
IKEA of Sweden Vitsippan, Älmhult
IKEA Älmhult AB, Älmhult
IKEA of Swedens Testlab, Älmhult
IKEA Store, Umeå
IKEA Customer Support Center, Helsingborg
APP – ICON Byn Coworking and Konferens, Växjö
Fortnox Head Office, Växjö
Fortnox Finans Office, Malmö
Castellum IT-Kontorshotell, Växjö
Vida Wood Head office, Alvesta
Smarteyes Landskrona
Smarteyes Katrineholm
Smarteyes Kalmar
Smarteyes Falköping
Smarteyes Oskarshamn
Smarteyes Nässjö
Smarteyes Borås
Smarteyes Västervik
Smarteyes Västerås
Fortnox Linköping
Leaps Växjö
Smarteyes Helsingborg city
Smarteyes Jönköping ASECS
Smarteyes Linköping
Smarteyes Växjö
Smarteyes Halmstad
Capcito & Monto
Boards on Fire
Germany
Smarteyes Kaiserslautern, Frankfurt
Smarteyes Karlsruhe
Smarteyes Trier
Smarteyes Neunkirchen
Denmark
Smarteyes Concept Store, Köpenhamn
Smarteyes Valby, Köpenhamn
Smarteyes Aarhus
Smarteyes Roskilde
Smarteyes Viborg
Smarteyes Køge
Smarteyes Holstebro
Smarteyes Hørsholm
Smarteyes Farum
Vietnam
IKEA Purchase & Logistics Office, Ho Chi Minh
Taiwan
IKEA Service Office, Taipei
MALAYSIA
IKEA Kuala Lumpur – Distribution Center
INDIA
IKEA Purchase & Logistics South of Asia
News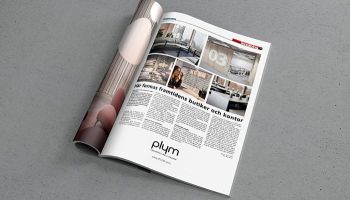 The link between the architect and the furniture supplier. That's how you best describe Plym Projekt AB, where the focus is on creating unique, sustainable, and flexible designs for the future in office and store design. In close collaboration with their customers PLYM makes custom-made solutions with a grounding in needs and function. A concept that has attracted multiple industry leaders both in Sweden as well as globally in less than five years.
Plym Architecture and Design is a design agency that creates unique concepts and designs for offices and commercial store environments, with a focus on the clients´ needs and functions. With a lot of big projects in their background and customers all over the world, they create a unique workplace for their clients.